The United Evangelical Church of the Philippines
1170 Benavidez St, Tondo, Manila, 1000 Metro Manila
November 30-December 1, 2018
Nature of the event: Camping
The United Evangelical Church of the Philippines (UECP), is a union of Presybyterian, United Brethren in Christ and Congregationalist denominations along with the United Church of Manila.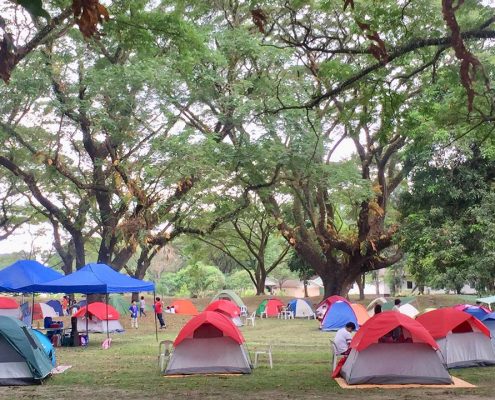 Last November 30-December 1, 2018, they had their "father and son" camping event attended by their church members in Manila. As regular campers appreciate the solitude and tranquility of a remote camping ground since camping is regarded as a great way to get away from the busy city, camping is also a great way to form stronger connections with family members. This is the objective of UECP when they organized this event and they chose Clearwater Resort Clark Pampanga as the perfect venue for this camping event.
Most people nowadays spend all day looking at their phone screens, highly facinated with whatever the internet has to offer. The organizers of the event believed that in camping, you turn everything off and just enjoy each other's company. It is indeed a refreshing feeling. They wanted the kids to value communication, cooperation and appreciate nature.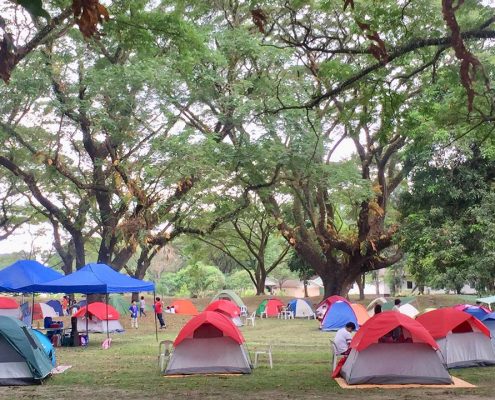 The Brunello Gardens of the resort served as their venue where they pitch in their tents, played games, and cooked their own meals.
The hotels's Brunello Gardens is the most versatile outdoor venue as it is used for corporate teambuildings, group campings, concerts, weddings and big social events. It is also one of the largest venues of the resort capable of accommodating 1000 to over 3000 participants. Participants feel relaxed in a stress-free environment allowing them to unwind while appreciating nature in a garden setting.
What started as a popular getaway destination for Manila residents stressed out from living and working in a crowded city, to enjoy a brief reprieve away from home, Pampanga Clark Freeport Zone has turned into popular destination for corporate outing and team building event. Clearwater Resort is situated inside Clark Freeport Zone conveniently located at a serene portion of the central business district. Surprisingly, the row of duty-free shopping malls is just behind this resort in Clark, a 5-minute walk only.
Clearwater Resort and Country Club, Clark Pampanga
Creekside Road near Centennial Expo,
Clark Freeport, Pampanga, Philippines 2023
Tel: (045) 599-5949
Mobile/SMS: 0917-520-4403
http://www.clearwaterphilippines.com/
Clearwater Resort Manila Sales Office
3003C East Tower, Philippines Stock Exchange Center,
Exchange Road, Ortigas Center, Pasig
Metro Manila, Philippines 1605
Tel: (632) 633-1566 / 637-5019
Mobile/SMS: 0917-530-6242 / 0917-540-3626
Where do Manila residents take a short break to relax and unwind? The answer is Clark. Located just 90 minutes north of Manila and just a pleasant drive up along North Expressway, Pampanga's Clark Freeport has become a popular destination for not just a getaway but also for family bonding and other gatherings. In fact, many companies in Manila have started to notice the advantages of holding their teambuilding events and outings in Clark. The short and – more importantly – safe journey makes Clark an ideal destination for day-tour events also. Clark offers not only traditional hotels but also resorts that offer natural outdoor facilities that an accommodate small to very large groups.
http://www.clearwaterphilippines.com/resort/wp-content/uploads/2016/11/Clearwater-Logo-WBG.png
0
0
clearwater
http://www.clearwaterphilippines.com/resort/wp-content/uploads/2016/11/Clearwater-Logo-WBG.png
clearwater
2018-12-12 03:49:57
2018-12-12 03:49:57
The United Evangelical Church of the Philippines "Father and Son Camping Day"