Pampanga Clark Freeport Resort confronts difficulties and potential danger in times COVID-19 to offer the best environment for companies in Manila and Pampanga to holding their postponed teambuilding and company outings this year. What is it that makes Clearwater Resort a better choice of venue for companies to hold their teambuilding events? The answer is space, large outdoor areas that naturally lend itself to social distancing while making it difficult if not possible for virus to transmit easily. Even then, this resort in Pampanga is not taking anything for granted when it comes to fighting COVID-19.
Sooner or later, the inborn resilience of mankind will overcome the threats and hurdles thrown at it relentlessly by COVID-19 and fight its way back to normalcy. But it is widely expected that the way of life after COVID-19 will be a little different than how it was before 2019 came to a painful close. The threat of COVID-19 is expected to stay in our minds for a very long time, possibly forever even. Teambuilding facilitators and corporate event organizers in Pampanga and Manila are expected to update their venue selection criteria. On the top of teambuilding organizers' priority list will be protection against COVID-19. Recommendations for protection against the spread of COVID-19 are well documented and publicized. The challenge that teambuilding facilitators and event organizers face now is how to comply with restrictions and still achieve a reasonable level of effectiveness with their corporate and social events.
PROTECTION AGAINST COVID-19 Prevention against spread of COVID-19 centers around a few crucial factors, namely space, ventilation and disinfecting. Wearing of masks and frequent hand sanitization have become a way of life already in the Philippines. What event organizers have to do is to ensure that the teambuilding venue offers enough space to avoid clustering of participants, or worse packed into a confined space. Outdoor space provides not only opportunities for ample distancing but also present an environment that is unsuitable for virus to survive. And even if ideal distancing is impractical or impossible for certain teambuilding activities, natural elements found in outdoor venues help to curb virus spread. Sharing of ventilation system has proven to be an open invitation for COVID-19 to spread aggressively. Most event organizers avoid indoor facilities not only for conferences, meetings and seminars, but also for accommodation that share central air conditioning and ventilation system. Some hotels are already looking into ways on how to avoid spread of the virus inside their centralized ventilation system.
Resorts in Clark like Clearwater Resort in Philippines Clark Freeport that offer spacious outdoor facilities as well as accommodation in the form of independent cabins, villas and lodges are preferred by Manila event organizers who are diligent in protecting teambuilding event participants from the dangerous virus. To avoid unnecessary human interactions, teambuilding facilitators and event organizers insist on private and exclusive event venues. Public events like beaches and parks are venues that are not private and exclusive. These once served as venues for teambuilding events, will not cut it anymore, not in the time of COVID-19. In public venues, it is impossible to avoid interactions with other guests and visitors. This presents grave concerns to organizers. Clearwater Resort offers over 15 private and exclusive > venues of various sizes and capacities for corporate, family and social events for groups from 50 to 1500 to be held in Clark Pampanga. Spacious outdoor venues not only provide room for social distancing but also plenty of natural ventilation that curbs virus spreading. Overnight accommodation is available at this resort in Pampanga Clark Freeport in the form of independent cabins, villas and lodges. Furthermore, there is ample distance between accommodation units offering extra separation of participants. These are some of the reasons why this resort in Clark is high on the list or preferred venues for teambuilding and company outings near Manila. More about some of these interesting private event venues available in Pampanga, Clark Freeport ……….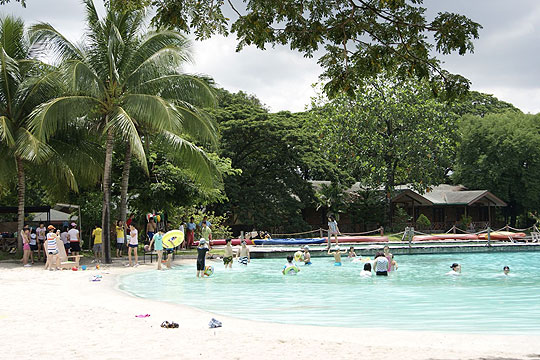 This resort in Clark offers a small number of cottages, lodges and cabins that blend seamlessly with the natural ambiance of its landscape. Some are in clusters of several rooms and there are those that are completely private. Some of these facilities for overnight accommodation in this resort are located around the lake while others are in the picnic grounds. They are spaced out across the large expanse of grounds of this resort, so yes, there is a bit of walking but there is a good sense of privacy also. More on cottages, lodges and cabins for overnight accommodation at this resort in Clark Pampanga ………. Pampanga Clark Freeport's proximity to Manila enables event planners to organize day tours. Instead of staying overnight, the overall cost of the team building event can be reduced. Some of the savings can be channeled into improvements in other aspects of the event, better food for example. The beautiful scenery and the quiet ambience of the lake and beach of this resort in Clark attract many visitors throughout the year, especially those who look for a good place to spend their holidays near Manila. Many visitors regard Clearwater as the best resort in Pampanga while event organizers and wedding planners appreciate this resort in Clark Philippines for its private event venues that are generally regarded as some of the best event venues in Pampanga. Clearwater Resort and Country Club, Clark Pampanga Creekside Road near Centennial Expo, Clark Freeport, Pampanga, Philippines 2023 Tel: (045) 599-5949 Mobile/SMS: 0917-520-4403 http://www.clearwaterphilippines.com/ Clearwater Resort Manila Sales Office 3003C East Tower, Philippines Stock Exchange Center, Exchange Road, Ortigas Center, Pasig Metro Manila, Philippines 1605 Tel: (632) 8633-1566 Mobile/SMS: 0917-540-3626
Those visitors who would like to enjoy good meals in their vacations would be delighted to know that Clark is also home to some of the finest restaurants in the Philippines. Manila wine lovers have long discovered that there is one fine dining restaurant in Clark Pampanga that offers an award-winning restaurant wine list. The name of the restaurant is
Yats Restaurant
. For more information about this restaurant in Clark, call (045) 599-5660 or 0917-520-4401.
http://www.clearwaterphilippines.com/resort/wp-content/uploads/2016/11/Clearwater-Logo-WBG.png
0
0
clearwater
http://www.clearwaterphilippines.com/resort/wp-content/uploads/2016/11/Clearwater-Logo-WBG.png
clearwater
2020-06-21 06:31:39
2020-06-23 14:32:27
TEAMBUILDING in the time of COVID-19