Department of Trade and Industry (DTI)
December 4, 2019
Nature of the event: Team Building
The Philippine Department of Trade and Industry (Filipino: Kagawaran ng Kalakalan at Industriya, abbreviated as DTI) is the executive department of the Philippine Government tasked as the main economic catalyst that enables innovative, competitive, job generating, inclusive business, and empowers consumers. It acts as catalyst for intensified private sector activity in order to accelerate and sustain economic growth through comprehensive industrial growth strategy, progressive and socially responsible trade liberalization and deregulation programs and policymaking designed for the expansion and diversification of Philippine trade – both domestic and foreign.
Department Order No. 19-18, s. 2019, laid out the organizational structure of the Department into the following functional groups: Competitiveness and Innovation Group (CIG); Consumer Protection Group (CPG); Industry Development and Trade Policy Group (IDTPG); Management Services Group (MSG); Regional Operations Group (ROG); and the Trade Promotions Group (TPG).
Its hierarchical organization include 27 foreign trade service posts, 17 regional offices (including Negros Island Region), 87 provincial/city/area offices, 12 bureaus, 4 attached agencies, 7 attached corporations, and 8 services offices.
The newly built Lakeside Hall of the resort served as their venue for their activity. The event went on very smoothly with their properly coordinated programme and well organized activities. After the whole day teambuilding, they also had the chance to experience the relaxing feel and ambiance of the hotel as they enjoyed their free time late in the afternoon.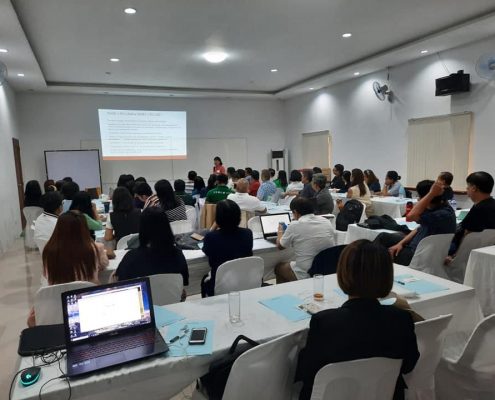 For those indoor events like seminars, meetings and workshops that require a function room, Discovery Hall is the perfect venue. It is located at the Discovery Cove Area of the resort, just a few steps from the main entrance of Clearwater Resort. This venue is very ideal for big corporate groups and also for social functions especially weddings and birthdays. It can comfortably accommodate 150 pax up to 300 pax depending on the required seating arrangement or set-up.
What started as a popular getaway destination for Manila residents stressed out from living and working in a crowded city, to enjoy a brief reprieve away from home, Pampanga Clark Freeport Zone has turned into popular destination for corporate outing and team building event. Clearwater Resort is situated inside Clark Freeport Zone conveniently located at a serene portion of the central business district. Surprisingly, the row of duty-free shopping malls is just behind this resort in Clark, a 5-minute walk only.
Clearwater Resort and Country Club, Clark Pampanga
Creekside Road near Centennial Expo,
Clark Freeport, Pampanga, Philippines 2023
Tel: (045) 599-5949
Mobile/SMS: 0917-520-4403
http://www.clearwaterphilippines.com/
Clearwater Resort Manila Sales Office
3003C East Tower, Philippines Stock Exchange Center,
Exchange Road, Ortigas Center, Pasig
Metro Manila, Philippines 1605
(632) 8- 637-5019 / 8- 633-1566 / 0917-520-4393 / 0917-520-3626
What kind of venues does most event organizers hope to find for a company teambuilding near Manila? One that is not too far from Manila for sure, within 1 to 2 hours. That's the event destination. As for a venue in that destination, event planners require privacy and exclusivity, no potential disturbances from other guests in that vicinity. A controlled environment is not just desirable but very essential for the success of any corporate teambuilding event outside Manila. Click here for more information on private and exclusive event venues for team building in Pampanga, Clark Freeport ……….
http://www.clearwaterphilippines.com/resort/wp-content/uploads/2016/11/Clearwater-Logo-WBG.png
0
0
clearwater
http://www.clearwaterphilippines.com/resort/wp-content/uploads/2016/11/Clearwater-Logo-WBG.png
clearwater
2020-01-24 02:55:34
2020-01-24 02:55:34
Department of Trade and Industry (DTI)