Best venue for Wedding in Pampanga can be found inside Clark Freeport. Inside Clark, international hotels offer banquet halls for indoor wedding receptions. But today, wedding planners, facilitators as well the wedding couples themselves wisely opt for outdoor venues for garden styled wedding ceremonies and receptions.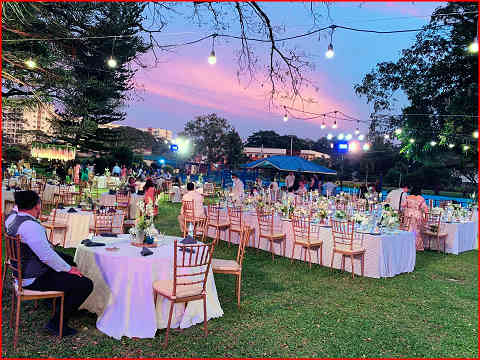 Garden styled weddings are not a new concept. In fact, here in Pampanga where land is not as scarce as in major cities like Cebu and Metro Manila. Outdoor venues for weddings can be found. The unfortunate arrival of COVID-19 pandemic has escalated the demand for the safer wedding option of outdoor wedding venues in Pampanga.
Recommendations for protection against the spread of COVID-19 are well documented and publicized. The challenge that events coordinators and wedding planners face these days is how to comply with restrictions and still achieve a reasonable level of effectiveness with their corporate and social events. For weddings in particular, social distancing policies cause wedding organizers to seek out larger venues that can accommodate more spacious seating arrangements for the wedding reception. Click here for more about organizing events in times of COVID-19.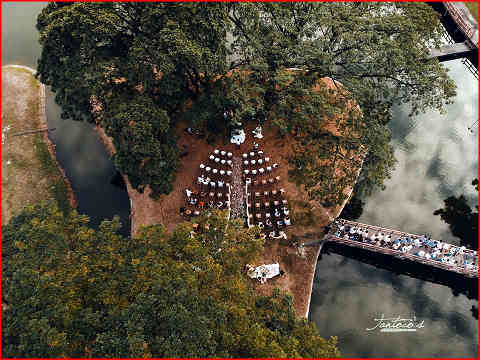 One of the most popular wedding venues in Pampanga is an outdoor nature resort in the central business district of Clark Philippines. Here in
this resort in Clark
, wedding planners and event organizers find themselves with a choice of over twelve excellent wedding venues suitable for all group sizes ranging from a small cozy wedding of just 30 or 40 guests to large wedding receptions for well over 1000 participants. The name of this wedding venue in Clark Pampanga is
Clearwater Resort
and it is located right in the heart of Clark Freeport, walking distance from the row of duty-free malls.
This wedding resort in Clark Pampanga empowers the wedding planner to use his or her imagination to design a most memorable wedding for the wedding couple. Take for example the Family Island Cove which is fast becoming one of the most sought-after wedding reception venue in Pampanga.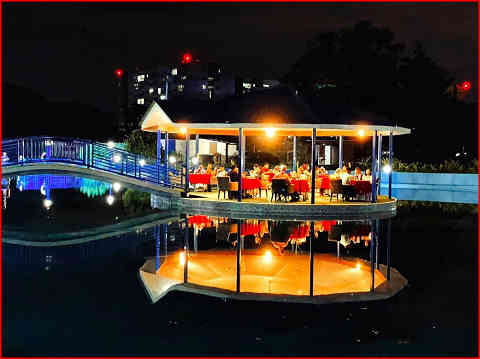 The pool and water features of this wedding venue give guests a special sense of glamor and romance. The Frolic Garden and the Peninsula venues of this resort in Clark combined can accommodate well over 500 with ease and comfort. Large trees offer welcomed shading for receptions that start in the afternoon.
Another hot favorite is a small island called Discovery Island which is accessible from the shore via a short but scenic bridge. This wedding venue is designed to accommodate from 30 to 80 guests. From the island of this resort in Clark, guests have a panoramic view of the idyllic lake and lodges and cabins punctuating the shoreline. Adjacent to but separated by a narrow strip of water is the white sand beach of this resort in Clark. The beach ends in a swimming lagoon which also has a small swimming pool attached to it on the side.
Learn more about the wedding venues offered by this resort in Clark Pampanga and browse the pictures of each venue….
PROTECTION AGAINST COVID-19
Prevention against spread of COVID-19 centers around a few crucial factors, namely space, ventilation and disinfecting. Wearing of masks and frequent hand sanitization have become a way of life already in the Philippines. What event organizers must do is to ensure that the wedding venue in Pampanga offers enough space to avoid clustering of participants, or worse packed into a confined space.
Outdoor space provides not only opportunities for ample distancing but also present an environment that is unsuitable for virus to transmit or even survive. And even if ideal distancing is impractical or impossible for certain teambuilding activities, natural elements found in outdoor venues help to curb virus spread.
Sharing of ventilation system has proven to be an open invitation for COVID-19 to spread aggressively. Indoor facilities are avoided not only for conferences, meetings and seminars, but also for accommodation that share central air conditioning and ventilation system. Some hotels are already looking into ways on how to avoid spread of the virus inside their centralized ventilation system.
Resorts in Clark like
Clearwater Resort
in
Philippines Clark Freeport
that offer spacious outdoor facilities as well as accommodation in the form of independent cabins, villas and lodges are preferred by Manila event organizers who are diligent in protecting teambuilding event participants from the dangerous virus.
To avoid unnecessary human interactions, Pampanga wedding organizers and event organizers insist on private and exclusive event venues. Interactions with other guests in the resort must be minimized if not avoided altogether. Clearwater Resort offers over 12 private and exclusive > venues of various sizes and capacities for corporate, family and social events for groups from 50 to 1500 to be held in Clark Pampanga. Spacious outdoor venues not only provide room for social distancing but also plenty of natural ventilation that curbs virus spreading.
Overnight accommodation is available at this resort in Pampanga Clark Freeport in the form of independent cabins, villas and lodges. Furthermore, there is ample distance between accommodation units offering extra separation of participants. These are some of the reasons why this resort in Clark is high on the list or preferred venues for teambuilding and company outings near Manila.
Clearwater Resort and Country Club, Clark Pampanga
Creekside Road near Centennial Expo, Clark Freeport, Pampanga, Philippines 2023
Tel: (045) 599-5949 Mobile/SMS: 0917-520-4403
http://www.clearwaterphilippines.com/
Clearwater Resort Manila Sales Office
3003C East Tower, Philippines Stock Exchange Center, Exchange Road, Ortigas Center, Pasig Metro Manila, Philippines 1605
Tel: (632) 8633-1566 Mobile/SMS: 0917-540-3626
http://www.clearwaterphilippines.com/resort/wp-content/uploads/2016/11/Clearwater-Logo-WBG.png
0
0
clearwater
http://www.clearwaterphilippines.com/resort/wp-content/uploads/2016/11/Clearwater-Logo-WBG.png
clearwater
2021-03-22 08:29:42
2021-03-24 03:12:26
PAMPANGA WEDDING VENUE