Miss Danika Florentino
April 22, 2017
Nature of the Event: Debut Birthday Party

Clearwater Resort Clark Pampanga is not only well known for being one of the most sought after venue for teambuildings and corporate outings.  The resort also provides garden-style weddings and other social celebrations.  Clearwater has excellent venues to choose from depending on the number of guests and style a client has in mind. And because of the relaxing ambiance it offers, not to mention to the charm of its man-made beach with fine white sand, the hotel is also the perfect venue for hawaiian themed birthdays and parties.

Last April 22, 2017, Miss Danika Florentino celebrated her 18th birthday in Clearwater Resort Clark Pampanga with a "Luau" themed party (hawaiian party).  Every girl looks forward to her debut, because as they say, its a girl's coming of age as she enters adulthood.  Miss Danika and her family planned the momentous occasion months in advance selecting the most ideal venue, catering package and event planner. Miss Danika chose the hotel as the perfect venue for her debut as Clearwater offers a wide area along the Discovery Cove fit for her guests and family plus the "best" hawaiian feel it brings to guests.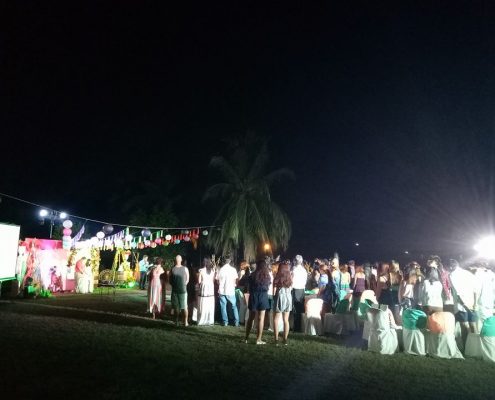 Her debut was highlighed by the traditional 18 roses, 18 candles and 18 treasures joined by her family, relatives and friends close to her heart.  It was the perfect party she wished for.
The Resort's Discovery Cove Area  is one of the largest event venuesin the resort accommodating comfortably over 1000 persons. It is situated by the beach and its surrounding swim spots, nestled between the clusters of the lakeside lodges and villas, this venue is very ideal for parties, weddings, big corporate teambuilding events and concerts.
What started as a popular getaway destination for Manila residents stressed out from living and working in a crowded city, to enjoy a brief reprieve away from home, Pampanga Clark Freeport Zone has turned into popular destination for corporate outing and team building event. Clearwater Resort is situated inside Clark Freeport Zone conveniently located at a serene portion of the central business district. Surprisingly, the row of duty-free shopping malls is just behind this resort in Clark, a 5-minute walk only.



Clearwater Resort and Country Club, Clark Pampanga
Creekside Road near Centennial Expo,
Clark Freeport, Pampanga, Philippines 2023
Tel: (045) 599-5949
Tel: (045) 599-5949 | Sales: (045) 499-8427
http://www.clearwaterphilippines.com/
Clearwater Resort Manila Sales Office
3003C East Tower, Philippines Stock Exchange Center,
Exchange Road, Ortigas Center, Pasig
Metro Manila, Philippines 1605
Tel: (632) 633-1566 / 637-5019
Mobile/SMS: 0917-530-6242 / 0917-540-3626
Clearwater Resort
is the only hotel resort in Clark Pampanga that offers not one, not two, but twelve (12) outdoor venues for corporate and social events in Clark Philippines. Here in this resort in Clark Pampanga, every one of these event venues offers a keen sense of exclusivity as well as a high degree of privacy. The event venues of this resort in Clark come in different sizes enabling the resort to accommodate team building events as small as 50 persons, all the way up to 5000 or more.
More on different event venues for team building in Pampanga, Clark Freeport ……….
http://www.clearwaterphilippines.com/resort/wp-content/uploads/2016/11/Clearwater-Logo-WBG.png
0
0
clearwater
http://www.clearwaterphilippines.com/resort/wp-content/uploads/2016/11/Clearwater-Logo-WBG.png
clearwater
2018-12-04 01:09:46
2018-12-04 01:09:46
Miss Danika Florentino 18th Birthday in ClearWater Resort Pampanga!!