The Frolic Garden of Clearwater Resort is one of the most frequently booked venue for functions and outdoor events that require a sense of tranquility, privacy and being close to nature.
Croquet Lawn and Lake at Frolic Garden
The Frolic Gardens of Clearwater Resort is a faithful rendition of the laidback, suburban lifestyle that Clark is famous for. It exudes the kind of relaxing ambience that enables participants to relax and unwind. The picnic grounds, large Acacia trees and the view of the lake of Clearwater Resort make it possible for guests to shed some of the stress of living in a crowded city like Manila.
Frolic garden is a peninsula with the lake of Clearwater Resort on one side and the Family Cove wading pond on the other. Leisure amenities on the garden include swings hanging from large Acacia tress, a lawn set up for croquet and facilities for pitching horse shoes. The golf practice greens are just a few steps away.
The Frolic Garden can accommodate groups of 100 to 300. Overnight hotel accommodation is available at Clearwater Resort, the nearest to this event venue are Lake House Cabins, the Lakeside Lodge and the Bunk Cottages.
The Frolic Garden event venue is highly recommended by event organizers for these purposes:
Company Outings
Team Building
School Picnics
Retreats
Wedding Receptions
Parties
Frolic Gardens by the famous
Lake in Clark Freeport Zone.
Birthdays and Anniversaries
A. Frolic Garden Area
      Venue Rental Charge: Php 30,000.00
Admission Charges Included:  100 persons
B. Frolic Garden (end part area) for smaller events and groups
     Venue Rental Charge: Php 20,000.00
Admission Charges Included:  60 persons
Admission Charges for extra participants: 300/person
Toilet Facilities: Toliet facilities are available at the Frolic Garden and also at the snack back across the Family cove.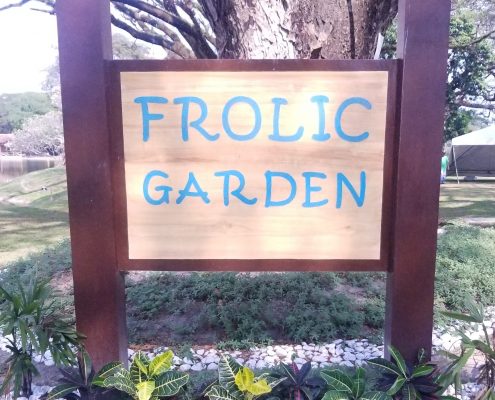 Frolic Garden
Smaller groups of less than 80 can opt to rent The Frolic Garden venue for smaller events subject to availability . Rental fee is php20,000 which includes admission charges for 60 persons.
Please click here to contact Clearwater Resort to reserve a venue for your upcoming event now
http://www.clearwaterphilippines.com/resort/wp-content/uploads/2016/11/Clearwater-Logo-WBG.png
0
0
20nimda11
http://www.clearwaterphilippines.com/resort/wp-content/uploads/2016/11/Clearwater-Logo-WBG.png
20nimda11
2017-10-09 14:32:07
2022-11-22 03:09:49
Frolic Gardens