P & B Valises Et Compagnie
Purok 4 Barangay Del Rosario 2000 San Fernando City, Pampanga – Philippines
May 16, 2015
Nature of Event: Team Building
P & B Valises Et Compagnie, Inc. is well known for re-interpreting and improvising its furniture and pieces through classical designs. They hold office in San Fernando Pampanga. The company manufactures, fabricates, and markets an electric line of residential and hospitality contract furnishings. Some of their product line includes baskets and storage, candles and candleholders, chest/lockers, decorative panels, desk accessories, indoor furniture, mirror and mirror frames, seasonal candles and candleholders and table tops. Their products are usually made of leather, rattan and wood.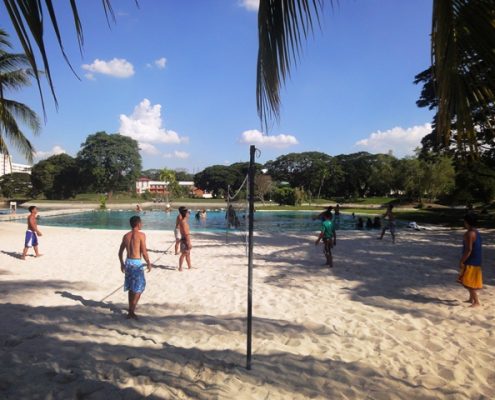 They had their day tour teambuiding in Clearwater Resort in Clark Pampanga last May 16, 2015. The 108 participants who attended the event included all staff and higher management. While in this resort in Clark, the team building involved several outdoor activities such as beach volleyball, basketball and sack race. the teambuilding facilitator also added some mind games as well to foster team spirits. The participants relished the outdoor facilities and vast grounds of this resort in Clark. It as in the frolic garden of this resort in Pampanga where they bonded, enjoyed some laughter while cheering their team mates on in their outdoor activities of this resort. It was truly a fun filled day worth remembering for this group.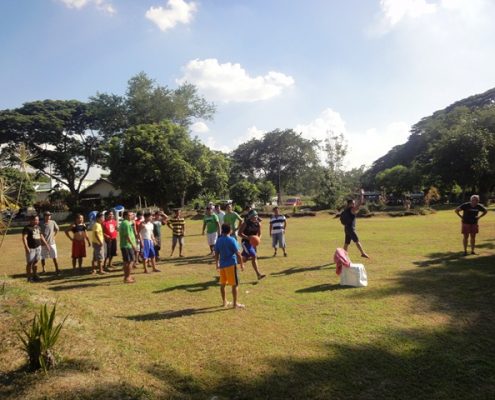 The Frolic Gardens of the resort exudes the kind of relaxing ambiance that make it possible for guests to relax and unwind. It can accommodate groups of 100 to 300 people. And for those who wish to stay overnight for their event, the lakehouse cabins and bunk cottages are highly suggested because of the proximity of these rooms to the venue.
The leisure ambiance and feel of nature in this resort in Clark have long been regarded by facilitators and event organizers as an essential factor in achieving good results in teambuildiing exercises. The hotel facilities, good food, the sense of privacy of different spacious outdoor venues are factors that event organizers can use to their advantage.
What started as a popular getaway destination for Manila residents stressed out from living and working in a crowded city, to enjoy a brief reprieve away from home, Pampanga Clark Freeport Zone has turned into popular destination for corporate outing and team building event. Clearwater Resort is situated inside Clark Freeport Zone conveniently located at a serene portion of the central business district. Surprisingly, the row of duty-free shopping malls is just behind this resort in Clark, a 5-minute walk only.
Clearwater Resort and Country Club, Clark Pampanga
Creekside Road near Centennial Expo,
Clark Freeport, Pampanga, Philippines 2023
Tel: (045) 599-5949 | Sales: (045) 499-8427
Mobile/SMS: 0917-520-4403
http://www.clearwaterphilippines.com/
Clearwater Resort Manila Sales Office
3003C East Tower, Philippines Stock Exchange Center,
Exchange Road, Ortigas Center, Pasig
Metro Manila, Philippines 1605
Tel: (632) 633-1566 / 637-5019
Mobile/SMS: 0917-530-6242 / 0917-540-3626
Clearwater Resort is the only hotel resort in Clark Pampanga that offers not one, not two, but twelve (12) outdoor venues for corporate and social events in Clark Philippines. Here in this resort in Clark Pampanga, every one of these event venues offers a keen sense of exclusivity as well as a high degree of privacy. The event venues of this resort in Clark come in different sizes enabling the resort to accommodate team building events as small as 50 persons, all the way up to 5000 or more. More on different event venues for team building in Pampanga, Clark Freeport ……….
http://www.clearwaterphilippines.com/resort/wp-content/uploads/2016/11/Clearwater-Logo-WBG.png
0
0
clearwater
http://www.clearwaterphilippines.com/resort/wp-content/uploads/2016/11/Clearwater-Logo-WBG.png
clearwater
2018-11-10 02:50:20
2018-11-27 02:39:28
P & B Valises Et Compagnie, Inc Team building