HBA DESIGNS (Hirsh Bedner Associates)
Philexcel Business Center 3, Philexcel Business Park, Pampanga, Jack Nasser Dr, Pampanga
May 4-5, 2018
Nature of Event: Team Building for 260 Pax
Team bonding activities improve workplace projects that basically requires team effort. This is one way of understanding employees' strength, weaknesses and interests that lead to good results like working even better together on future projects attributable to the company's success.
HBA DESIGNS (Hirsh Bedner Associates), a hospitality design firm which creates the signature look of today's luxury hotels, resorts, spas, casinos, restaurants, cruise ships, botique hotels and world-class residence. They are well known for their extensive knowledge in the interior design industry. They have a branch in Clark Pampanga located in Philexcel and one in Taguig.
HBA Clark branch conducted their teambuilding in Clearwater Resort Clarkfield Pampanga last May 4-5, 2018 and was attended by almost 260 participants. They aim to improve their employees' wellness and productivity in the company and at the same time motivate them to work together for better projects. They divided the group into six (6) color coordinated teams and competed with each other on physical games and challenges. Well, in the end, they have learned the value of sportsmanship, cooperation and team effort.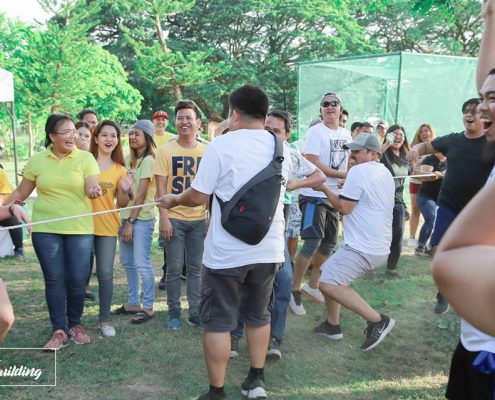 The Peninsula picnic ground served as their outdoor venue for their teambuilding games and activities. The Peninsula is a very popular venue for all sorts of events particularly school picnics, teambuildings and company outings. This venue is located between the Amphitheatre and the Frolic Gardens. The full view of the famous man-made lake of the hotel is enjoyed by the guests as well as access to the Family Cove wading pool. The Peninsula can accommodate groups from 50 to 300 pax if we include the Amphitheatre. Overnight accommodations nearest to the Peninsula are the lakeside lodges, bayou cottage, and bunk cottages.
What started as a popular getaway destination for Manila residents stressed out from living and working in a crowded city, to enjoy a brief reprieve away from home, Pampanga Clark Freeport Zone has turned into popular destination for corporate outing and team building event. Clearwater Resort is situated inside Clark Freeport Zone conveniently located at a serene portion of the central business district. Surprisingly, the row of duty-free shopping malls is just behind this resort in Clark, a 5-minute walk only.
Clearwater Resort and Country Club, Clark Pampanga
Creekside Road near Centennial Expo,
Clark Freeport, Pampanga, Philippines 2023
Tel: (045) 599-5949 | Sales: (045) 499-8427
Mobile/SMS: 0917-520-4403
http://www.clearwaterphilippines.com/
Clearwater Resort Manila Sales Office
3003C East Tower, Philippines Stock Exchange Center,
Exchange Road, Ortigas Center, Pasig
Metro Manila, Philippines 1605
Tel: (632) 633-1566 / 637-5019
Mobile/SMS: 0917-530-6242 / 0917-540-3626
What kind of venues does most event organizers hope to find for a company team building near Manila? One that is not too far from Manila for sure, within 1 to 2 hours. That's the event destination. As for a venue in that destination, event planners require privacy and exclusivity, no potential disturbances from other guests in that vicinity. A controlled environment is not just desirable but very essential for the success of any corporate team building event outside Manila. Click here for more
http://www.clearwaterphilippines.com/resort/wp-content/uploads/2016/11/Clearwater-Logo-WBG.png
0
0
clearwater
http://www.clearwaterphilippines.com/resort/wp-content/uploads/2016/11/Clearwater-Logo-WBG.png
clearwater
2018-11-22 01:32:07
2018-11-27 02:21:51
HBA DESIGNS (Hirsh Bedner Associates) Team Building at ClearWater Resort!