Company Name: Republic Central Colleges (HS Batch '67)
Date: February 1, 2020
Type of Event: Outdoor Fiesta
Republic Academy was founded by the Hon. Rafael L. Lazatin with the support of his spouse, Loreto Paras Feliciano. Hon. Rafael L. Lazatin, a prominent agriculturist and industrialist, was a two-term
mayor of Angeles City, and provincial board member, two-term governor, and Batasang Pambansa Assemblyman representing the Province of Pampanga. The Founder was aptly guided by his great faith in the Lord and inspired by his unquenchable desire to serve the public. He was also driven by the public clamor for quality education in answer to the pressing need at the time – a school servicing many adolescents who could not be accommodated at the Pampanga High School, then the only public high school in the province. A year after the opening of the high school department, in 1947, the elementary department was also opened. In the same year, upon the request of parents and students, college courses were also offered so that high school graduates may continue their

education without having to go to Manila. Thus was born the "Republic Junior College". Normal and Education courses were also offered. In 1949, the education-conscious masses and the many employees in nearby Clark Air Base requested the opening of other courses; thus, the College of Commerce and Liberal Arts were opened. The "Republic Junior College" was given the name "Republic Central Colleges" with government recognition granted to all of its courses. Heeding the country's need for Citizen Army Training, the Reserve Officers Training Corps (ROTC) was permitted to be organized and function by the Armed Forces of the Philippines on June 8, 1957. This was the first ROTC unit organized in Pampanga.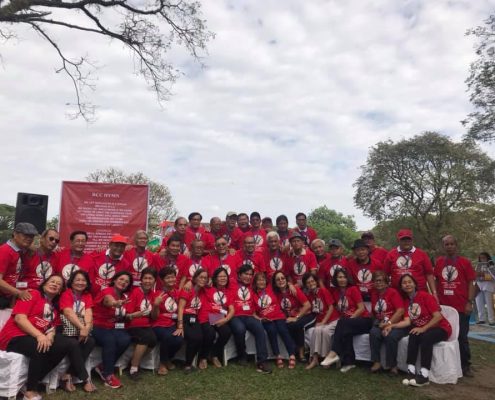 Where do Manila residents take a short break to relax and unwind? The answer is Clark. Located just 90 minutes north of Manila and just a pleasant drive up along North Expressway, Pampanga's Clark Freeport has become a popular destination for not just a getaway but also for family bonding and other gatherings. In fact, many companies in Manila have started to notice the advantages of holding their teambuilding events and outings in Clark. The short and – more importantly – safe journey makes Clark an ideal destination for day-tour events also. Clark offers not only traditional hotels but also resorts that offer natural outdoor facilities that an accommodate small to very large groups.
Clearwater is voted as best resort in Clark Pampanga, lauded by travel agencies and event organizers for its natural beauty, spacious picnic grounds, safe and clean environment for families to relax and unwind in the outdoor facilities. Many visitors enjoy the peace and quiet so much that they spend several nights in some of the hotel lodgings, cottages and cabins in the picnic grounds and around the famous lake of Clark.
Best resort in Clark Pampanga lauded for its rendition of the laidback lifestyle that Clark is famous for, attracting visitors from Manila, Angeles City, Subic, Pampanga and Tarlac to visit this hotel in Clark to spend a memorable day by the famous lake of Clark, relaxing and unwinding in the picnic grounds while kids enjoy the park swimming or playing with rowboats and kayaks
Travel groups recommend Clearwater Resort for this Holy Week and Easter holidays because this hotel resort in Clark Philippines is a private resort that is near Manila and is highly recommended for families with children to relax and unwind in a safe and secure location. This is a good private resort hotel in Angeles City Pampanga Clark Philippines for family bonding. Many family reunions are held here in this top rated hotel resort in Clark.
Event organizers and planners looking for a large venue for big groups in outdoor functions and gatherings highly recommend Clearwater Resort located near Manila in Clark Philippines. Most hotels in Pampanga are tight in space and few offer any real outdoor space that families with children need to let kids enjoy the facilities of a good private resort near Manila. This special hotel in Angeles Pampanga Clark Freeport offers large space and facilities that can accommodate big events, concerts, company outings, team building and other company and social gatherings.
What really defines the ambience and lifestyle of this private outdoor resort in Clark is its spacious picnic grounds. The largest one is called the Brunello Garden which can easily accommodate functions and events for 3000 or more. Being several hectares in area, this amenity of Clearwater Resort is frequently visited for family picnics. Visitors from Manila travel to Clark to unwind and relax underneath old Acacia trees in the Brunello Gardens. This is one way for stressed out city residents to spend quality time in a leisure laidback pace.
For inquiries and bookings, click here to contact Clearwater Resort now
Family bonding can be very enjoyable this summer vacation if travelers can go north to Clark Pampanga and hang out in famous and highly recommended beach resort near Manila Clearwater near Angeles City Philippines. This is one of the best hotel resort in Pampanga, frequently visited by family travelers with children.
There is a casual café with a beautiful view which serves good breakfast and basic lunch and dinner. Foodies can opt to drive over to Mimosa about 3 minutes away just a bit too far to walk, to have dinner at the fine-dining Yats Restaurant and Wine Bar. This cozy and romantic restaurant serves French Mediterranean cuisine at prices that are surprisingly affordable. For wine lovers, this restaurant in Mimosa Clark Freeport Pampanga is a treat with its award winning 3000-line wine lists that contain not only the famous labels but also connoisseurs' choice of fine vintage wines.
Clearwater Beach and Lake Resort
Creekside Road near Centennial Expo, Clark Freeport, Pampanga Philippines 2023
(632) 8633-1566 or (045)599-5949 or 0917-520-4403
Reservation@ClearwaterPhilippines.com
Manila Sales Office
3003C East Tower, Phil Stock Exchange Center,
Exchange Rd Ortigas Metro Manila, Philippines 1605
(632) 8- 637-5019 / 8- 633-1566 / 0917-520-4393 / 0917-520-3626 3
Getting to this beach resort in Pampanga Angeles City Clark Philippines
After entering Clark Freeport from Dau and Angeles City, proceed straight along the main highway MA Roxas, passing the stand-along wine shop called Clark Wine Center on the right, continue to bear right making no turns at all, go past Mimosa Leisure Estate on the opposite side of the road, one will hit a major intersection. Go straight and the road becomes Creekside Road. YATS Clearwater Resort and Country Club is on the right just 200m down.
Wedding couples looking for wedding reception venues and beach wedding venues can log on to this Philippines Wedding Venue web site for free information and assistance:
http://www.PhilippinesWeddingVenue.com
Staying in a good hotel or resort in Pampanga Clark Philippines, it might be a good idea to enjoy an evening of wine-and-dine in the fine dining Yats Restaurant and Wine Bar that features an award winning 2700-line wine list. It is located in Mimosa Leisure Estate of Clark Freeport Zone. For more information, visit http://www.YatsRestaurant.com
YATS Leisure Philippines is a developer and operator of clubs, resorts and high-class restaurants and wine shops in Clark Angeles Philippines http://www.YatsLeisure.com
Wine lovers looking for a special bottle or something that is of great value and special discounts might log on to this web site to shop for fine vintage wines
http://www.YatsWineCellars.com

While staying in some of the best hotels in Clark, one might as well add to the itinerary a visit to the famous Clark Wine Center, the largest wine shop in Philippines which offers over 2000 selections of fine vintage wine from all wine regions, vintages spanning over 50 years covering all price ranges.
http://www.ClarkWineCenter.com
Looking for famous tourists spots, places to visit and see, relax and unwind in Clark, Pampanga, Philippines? You may want to check out these sites also:
Clark Pampanga has many good hotels and resorts to choose from, accommodating guests looking for holidays and vacations in the Philippines. Best hotels in Pampanga offer good outdoor facilities to children and kids to enjoy the resort while parents and adults relax and unwind in safe and clean venues. For assistance with hotels in Pampanga and Clark Philippines, log on to
http://www.HotelClarkPhilippines.com
The lifestyle in Clark Pampanga is quite unique. For more information about shopping, sports, golf, leisure, hotel accommodation, where to see and visit, what to do, where to wine and dine and good places to hang out, relax, have a drink with friends, child-friendly establishments, log on to
http://www.ClarkPhilippines.com

The London Pub is a very popular resto bar for residents, tourists, business executives and visitors from Manila to hang out, drink, relax and unwind after work or a game of golf during the day. Fine English cuisine, family comfort food is served. It is also very famous for the best fish n chips in the Philippines.
http://www.LondonPubClark.com
Facebook
http://www.clearwaterphilippines.com/resort/wp-content/uploads/2016/11/Clearwater-Logo-WBG.png
0
0
clearwater
http://www.clearwaterphilippines.com/resort/wp-content/uploads/2016/11/Clearwater-Logo-WBG.png
clearwater
2020-02-13 06:13:34
2020-02-13 06:23:52
Republic Central Colleges (HS Batch '67)