Last 11th – 12th of May 2017, Allied Pharmaceutical Laboratories Inc. organized a teambuilding event and at the same time their Company Summer Outing in one of the popular event and teambuilding venues in Clark Pampanga, Philippines.
They chose Clearwater Resort located at the heart of Clark Pampanga, they chose this resort because of its accessibility from their company, also because of the beauty of resort like the Man-made beach, Teambuilding area and more so.
The teambuilding that was held at Clearwater resort was attended by 43 participants who enjoyed their stay in the resort. They did different activities to enhance their personal characteristics, intrapersonal characteristics and being a team player to everyone reaching success as one team.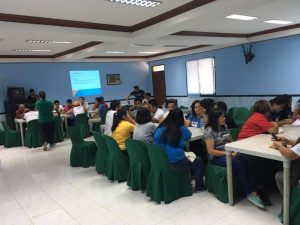 Allied Pharmaceutical had their teambuilding with a theme of "SKILLS alone Never enough, It is ATTITUDE that leads for ous to be ONE TEAM reaching SAME GOAL.
Seasoned event organizers recognize the importance of safety and security especially for out-of-town teambuilding events eit her in the north of the south. Aside from privacy and exclusivity issues of the event venue itself, there are other important considerations, one of which is the availability and accessibility of public support services. Experienced teambuilding event organizers consider factors like proximity of the venue to hospitals, escape routes from venue to safety in case of bad weather, and the general law and order record of the destination. There is nothing like an incident to ruin an event for the organizer and the participants.
Clearwater Resort and Country Club, Clark Pampanga
Creekside Road near Centennial Expo,
Clark Freeport, Pampanga, Philippines 2023
Tel: (045) 599-5949
Mobile/SMS: 0917-520-4403
http://www.clearwaterphilippines.com/resort
Clearwater Resort Manila Sales Office
3003C East Tower, Philippines Stock Exchange Center,
Exchange Road, Ortigas Center, Pasig
Metro Manila, Philippines 1605
Tel: (632) 633-1566
Mobile/SMS: 0917-540-3626
http://www.clearwaterphilippines.com/resort/wp-content/uploads/2016/11/Clearwater-Logo-WBG.png
0
0
clearwater
http://www.clearwaterphilippines.com/resort/wp-content/uploads/2016/11/Clearwater-Logo-WBG.png
clearwater
2017-11-02 06:03:44
2017-11-02 06:04:48
Team Building Event at Clearwater Resort in Clark by Allied Pharmaceutical Laboratories Inc.